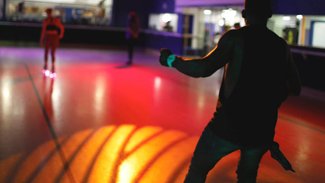 Strictly 18 and over with our famous DJ's and bar
A kid free zone with house DJs and a licensed bar to get those wheels rolling.
Fridays 8pm - 10.30pm
Who are our house DJ's and who is playing when?
Don't want to skate? Buy a spectator ticket and relax with a drink from our licensed bar.
15% off tickets and 50% off spectator entry with a Zebra Card.

Upcoming Sessions
Select a session time below to add to your basket
Friday 1st July

Friday 8th July

Friday 15th July

Friday 22nd July

Friday 9th September
View All

Friday 16th September

Friday 23rd September

Friday 30th September

Friday 7th October

Friday 14th October

Friday 21st October

Friday 28th October

Friday 4th November

Friday 11th November

Friday 18th November

Friday 25th November

Friday 2nd December

Friday 9th December

Friday 16th December

Friday 23rd December

Friday 30th December

Friday 6th January

Friday 13th January

Friday 20th January

Friday 27th January

Friday 3rd February

Friday 10th February

Friday 17th February

Friday 24th February

Friday 3rd March

Friday 10th March

Friday 17th March

Friday 24th March

Friday 31st March
Our DJ's
We have four super DJ's who play something different every week.
Make yourself known to them and ask for a shout out or your very special dance anthem.
Prices
Entry with your own skates £8.00
Entry with skate hire £11
Spectator entry £5.50
Zebra discount of 15% on skater entry tickets
15% on food and 50% on spectator entry tickets
Useful information
We provide locker facilities in Roller City solely for your use during the duration of your skating session or party and they 20p which is non-refundable.
No discount is applied when skate hire is bought as a standalone.
Please read our skating rules here and have a look at our FAQ
Summers Here
Summers Here
As the days get warmer is is time get on the inline skates and get down to the park, soak up those rays and strut your stuff.
Our Schools Out Disco is on Friday 22 July, our last until we reopen with aptley named We're Back Disco on Friday 9 Sept
Enjoy the summer.