At Campus West, we are committed to offering maximum accessibility and we strive to provide facilities that meet the requirements of all our customers.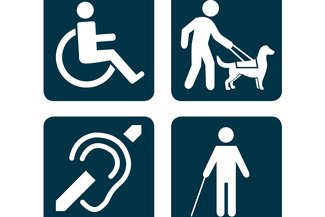 Cinema and Roller City Specific
The Cinema Exhibitors' Association Card for Carers
The Cinema Exhibitors' Association Card (CEA card) helps us to ensure that reasonable support is made available to you. If you require a carer, simply apply for your CEA card from www.ceacard.co.uk. Your CEA card will entitle your accompanying carer to a free seat. This policy is valid at all times. As the CEA Card is valid for those requiring assistance who are 8 years and above, it is applicable to our cinemas and in addition to Roller City.
In order to prove your eligibility for the free Cinema and Roller City carer ticket, you need for the first time, to show us your CEA Card and you will be set up to book tickets online and in person as a CEA cardholder. If for some reason you are unable to pop in to have you card verified, you can email us an image of your CEA card (the side with your photo and expiry date) and we will set you up in our system. All CEA card at the time of use must still be valid.
The Access Card
We also accept Access Card (also known as the CredAbility Card or a Nimbus Card) as proof of disability. The card symbols enables us to meet your needs. We offer card holders a free carer's ticket to Cinema, Roller City and Soft Play City. If you are interested in getting an Access Card, in case you don't already have one, please visit https://www.accesscard.online
To book online using the various Access Card ticket types, you will need to first register your card with us by emailing us a screenshot of the card showing your name, and expiry date. After checking and verifying your membership, we will then set you up on our system.
Soft Play City Specific
In Soft Play City, we offer free entry to parents/carers accompanying one child if disability ID is shown.
If you are not booking online, turn up and show your document over the counter and you will be issued a free Carer's ticket.
However, if you plan to book specifically Soft Play Carer tickets online, you must first register with us, by emailing a screenshot of any valid document that proves disability. This may be HAND Card, Access Card, Disability Living Allowance document or a letter from DWP regarding such matters or from a medical professional body confirming the diagnosis. When sending us such documents, please redact any sensitive information. We will then set you up and enable you to use the SEND SPC Carer (free with Child ticket) ticket type online. This is the free carer ticket that will be issued.
Please in all cases,the registration process may take up to two to three days.
Wheelchair users and guests with restricted mobility
Campus West is wheelchair-accessible and all screens, Soft Play City and Roller City have wheelchair access. There is a ramp to the main entrance, interior ramps and a lift from the ground floor to the first floor.
Customers who use a wheelchair do not need to provide proof of Registered Disabled status.
A complimentary ticket will be automatically issued to a wheelchair user with a companion when buying tickets in person.
To purchase tickets online, wheelchair patrons will need to complete the registration form. They will only need to do this once for ease of ticket purchases in the future.
Campus West is baby and wheelchair friendly. There are baby friendly changing facilities and accessible toilets as well as a DDA compliant lift for wheelchair users visiting Campus West. Find out more about Campus West accessibility.
Hearing impaired guests
English-language subtitles are available at certain screenings. Infra-red hearing loops are installed in all our screens.
Find out more here.
Sight impaired guests
Guide dogs are welcome at all times in all our cinemas and across the building except in Soft Play City.
If you need more details about disabled access, please email hello.campuswest@welhat.gov.uk
Accessibility statement for Campus West website
This website is owned and managed by Welwyn Hatfield Borough Council. We want as many people as possible to be able to use this website.
It has been designed with the aim of complying with the WCAG 2.1 AA standard.
The AbilityNet website has advice on making your device easier to use if you have a disability.
Reporting accessibility problems with this website
We are always looking to improve the accessibility of this website. If you find any non-accessible pages, email us at hello.campuswest@welhat.gov.uk.
Enforcement procedure
The Equality and Human Rights Commission (EHRC) is responsible for enforcing the Public Sector Bodies (Websites and Mobile Applications) (No. 2) Accessibility Regulations 2018 (the 'accessibility regulations'). If you're not happy with how we respond to your complaint, contact the Equality Advisory and Support Services (EASS).
Technical information about this website's accessibility
Welwyn Hatfield Borough Council is committed to making its website accessible, in accordance with the Public Sector Bodies (Websites and Mobile Applications) (No. 2) Accessibility Regulations 2018.
This website is partially compliant with the Web Content Accessibility Guidelines version 2.1 AA standard, due to the non-compliances listed below.
This information will be reviewed and updated following our next full accessibility audit.
Non accessible content
The content listed below is non-accessible for the following reasons.
1) Images
Some images do not have a text alternative, so people using a screen reader cannot access the information. This fails WCAG 2.1 success criterion 1.1.1 (non-text content).
We plan to review this by January 2021
2) Video
Third party video content embedded via YouTube may not have accurate or complete captions available.
3) PDF documents
Some of our documents are saved in PDF format, rather than PDF/UA format.
We plan to revise our PDF content, using Adobe Acrobat Pro by November 2020
How we tested this website
Our website platform was reviewed for accessibility in March 2020. The test was carried out by VOHM LIMTED.
What we are doing to improve accessibility
We are currently reviewing our website for accessibility and will fix any issues within the scope of the accessibility regulations which do not constitute a 'disproportionate burden'. We will continue to review the accessibility assessment and any issues which require fixing at regular intervals in the future.