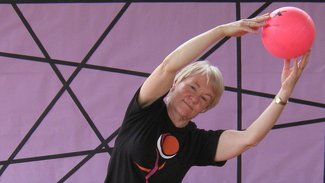 With Lois Palmer. DURATION: 1hr 30 mins | PRICE: £7.20 Maximum class size: 25 in Panshanger Community Centre and 15 in Vineyard Barn
Rhythmic movement for the whole body
Medau is rhythmic movement for the whole body. Our friendly, social classes combine the fitness elements of strength, stamina, suppleness, coordination, cardio-vascular work and help to improve posture and balance.
Apparatus such as balls and hoops enhance the movement, along with a wide variety of music.
LOCATION: 

Panshanger Community Centre and Vineyard Barn Large Room

CLASSES:
Mondays in Panshanger Community Centre - 10.30am - 12.00pm

Tuesdays in Vineyard Barn - 10.30am - 12.00pm
Upcoming Sessions
Select a session time below to add to your basket
Tuesday 16th August

Monday 22nd August

Tuesday 23rd August

Monday 29th August

Tuesday 30th August
View All

Monday 5th September

Tuesday 6th September

Monday 12th September

Tuesday 13th September

Monday 19th September

Tuesday 20th September

Monday 26th September

Tuesday 27th September

Monday 3rd October

Tuesday 4th October

Monday 10th October

Tuesday 11th October

Monday 17th October

Tuesday 18th October

Monday 24th October

Tuesday 25th October

Monday 31st October

Tuesday 1st November

Monday 7th November

Tuesday 8th November

Monday 14th November

Tuesday 15th November

Monday 21st November

Tuesday 22nd November

Monday 28th November

Tuesday 29th November

Monday 5th December

Tuesday 6th December

Monday 12th December

Tuesday 13th December

Monday 19th December

Tuesday 20th December

Monday 26th December

Tuesday 27th December

Monday 2nd January

Tuesday 3rd January

Monday 9th January

Tuesday 10th January

Monday 16th January

Tuesday 17th January

Monday 23rd January

Tuesday 24th January

Monday 30th January

Tuesday 31st January

Monday 6th February

Tuesday 7th February