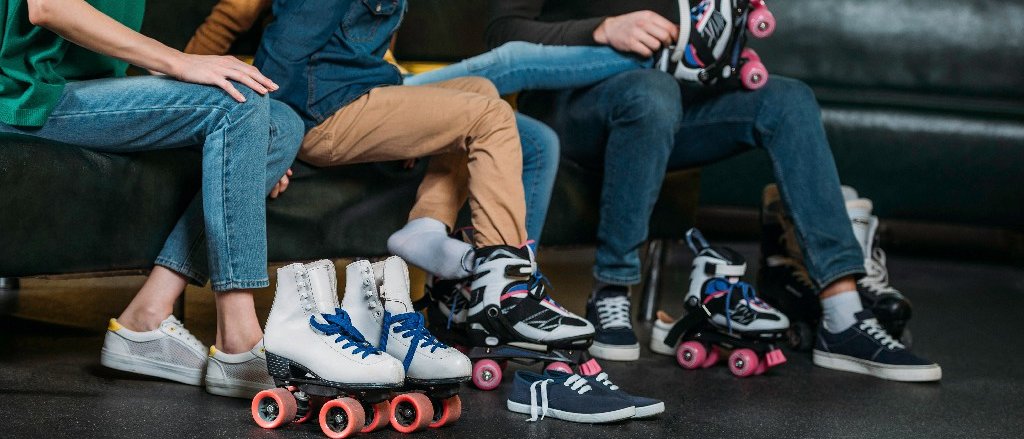 The history of roller skating and its evolution over time
Tuesday 23rd May 2023
Roller skating is a recreational activity that can be enjoyed by people of all ages. It's a great way to exercise, have fun, and socialise. Roller skating has left an indelible mark on popular culture, with references and representations in movies, music, and fashion contributing to its enduring appeal. But how did it all begin?
Early Origins of Roller Skating
In 1760, John Joseph Merlin, a Belgian inventor, created a primitive inline skate with small metal wheels. He demonstrated his invention during a party in the city of Huy, during which he skated while playing the violin.
In 1863, James Plimpton, a New York City furniture dealer, patented the first quad skate, which had four wheels set in two side-by-side pairs (front and rear). This design was much more manoeuvrable than previous designs and allowed skaters to turn and stop more easily.
In 1980, Scott and Brennan Olson, two brothers from Minneapolis, Minnesota, invented the first inline skate that was commercially successful. Their company, Rollerblade, Inc, quickly became the leading manufacturer of inline skates.
Roller Skating's Rise in Popularity
Roller skating has been around for centuries, but it wasn't until the 1930s that it really started to take off in popularity. This was due to the opening of public roller skating rinks all over the US. These rinks provided a safe and fun place for people of all ages to skate, and they quickly became popular hangout spots for teenagers and young adults.
Roller City at Campus West offers a safe and fun environment for children and adults to skate and even attend Roller Discos. Roller skating has seen a resurgence in popularity in the UK in recent years. There are a number of reasons for this, including:
The COVID-19 pandemic: During the pandemic, many people were looking for safe and socially distanced activities to do outdoors. Roller skating was a perfect option, as it is a low-impact activity that can be done alone or with friends.
The rise of social media: Roller skating has been featured prominently on social media platforms like TikTok and Instagram. This has helped to raise awareness of the sport and make it more accessible to a wider audience. It has become a popular trend to host birthday parties at roller rinks for a unique celebration.
The popularity of roller derby: Roller derby is a full-contact sport that is played on roller skates. It has seen a surge in popularity in recent years, and this has helped to boost the popularity of roller skating as a whole.
Technological Advancements in Roller Skating
Over the years, roller skate design has undergone significant advancements to improve comfort, performance, and safety. Some notable technological improvements include:
Lightweight Materials
Roller skates are now commonly made using lightweight materials such as carbon fibre, aluminium alloys, and high-strength plastics. These materials reduce the weight of the skates, making them more comfortable and manoeuvrable.
Improved Bearings
Bearings play a crucial role in the smooth movement of roller skates. Advancements in bearing technology have led to the development of precision bearings that minimise friction and allow for faster and smoother roller skating.
Enhanced Suspension Systems
Modern roller skates often feature advanced suspension systems that absorb shocks and vibrations, providing better stability and comfort during roller skating. These systems help minimise the impact on joints and reduce fatigue.
Adjustable Frames
Many roller skates now come with adjustable frames, enabling skaters to customise their roller skating experience based on their skill level, skating style, and specific requirements.
Improved Wheel Design
Newer wheel compositions offer better grip and durability, while specialised profiles and sizes cater to different skating disciplines, such as indoor, outdoor, speed, and aggressive skating.
Roller Skating Subcultures and Communities
Roller Derby and Its Evolution
Roller derby is a contact sport played by two teams of five members roller skating in the same direction around a track. Gameplay consists of a series of short matchups (jams) in which both teams designate a jammer who scores points by lapping members of the opposing team. The teams attempt to assist their own jammer while hindering the opposing jammer—in effect, playing both offence and defence simultaneously.
Artistic Roller Skating
Artistic roller skating combines elements of figure skating, dance, and gymnastics. Roller skaters perform routines on quad skates, showcasing their technical skills, flexibility, and artistic expression. The routines are often set to music and involve jumps, spins, footwork, and intricate choreography. Artistic roller skating has its own set of rules and competitions organised at national and international levels.
Figure Skating
Figure skating, traditionally associated with ice skating, has a counterpart in the roller skating world. Roller figure skating involves performing precise figures, spins, jumps, and footwork on quad skates. Similar to ice figure skating, it requires a high level of skill, balance, and coordination. Skaters compete in various events such as compulsory figures, free skating, and pairs skating.
Roller skating is a form of expression and identity for many people. It is a way to express oneself creatively and to connect with others at a public skating rink. It can also be a way to build confidence and self-esteem and it's also just plain fun!
Book your Roller City session today to experience the wonderful world of roller skating in a safe and secure skating rink.