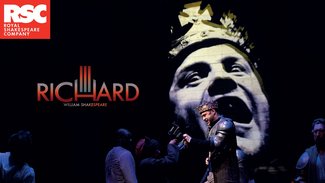 RSC's Richard III
Upcoming Screenings
Select a screening time below to choose seats and add to your basket
RSC's Richard III
Shakespeare's Richard III is the final instalment of the epic history between the Yorks and Lancasters as they struggle for the English crown.
Young Richard of Gloucester uses the chaos of the Wars of the Roses to begin his unscrupulous climb to power in this classic Shakespearean history of a king in the throes of jealousy and murder. Despite being manifestly unfit to govern, he overcomes each obstacle in his way to seize the crown, as King Richard III.
But as those around him turn against him, and as his plans begin to unravel, where else can he turn as the Lancastrian opposition returns to drag the country into battle once more and put an end to Richard's tyrannical rule.
Richard III is a savagely comic analysis of the exercise of power, reminding us of the dangers of tyranny and our duty not to let it go unchecked.
About Arthur Hughes - Richard III
Arthur Hughes stars as the title character, Richard III, continuing the role following the RSC's 5 star Wars of the Roses in the spring.
"Richard is the most murderous and charismatic character in Shakespeare's plays… I'm thrilled not only to be playing this title role at the RSC, but also that a major production of this play is putting disability centre stage. It's sadly rare in many plays to find a leading disabled character, and with this production I hope we prove that disabled talent deserves to be in the spotlight."
Arthur is best known for his role as Ryan McDaniel in Netflix series The Innocents, Ruairi Donovan in BBC Radio 4 series The Archers, and was most recently seen in Jack Thorne's C4 care-home drama Help with Jodie Comer and Stephen Graham. He is the co-lead in the ground-breaking new disabled civil-rights drama Then Barbara Met Alan on the BBC.